The ultimate guide to designing a fabulous in-home theater
You've been dreaming about this moment for so long.
The sprawling acres
Luxurious amenities around every corner
So many rooms that you've lost count
That's right! You've finally found the one … the house to rival all houses. And you are just counting down the days until you get to leave your starter home in the dust (literally) and settle into your new mini-mansion.
After all this time waiting, saving, and searching for the perfect home, you are ready to go all out. Your new home has to provide every luxury on your bucket list and be the object of awe and inspiration to all your guests. And now you're probably wondering what to do with all your new space.
Picture this: plush interiors that scream elegance and extravagance, complete with top-tier amenities that mark a high-end lifestyle.
If your idea of a dream home can be described like this, you've probably pictured it with some of the most over-the-top features: a fountain, wine cellar, spa-style bathrooms, or even an exquisite in-home theater.
A regular contractor may not have the skill or experience to deliver the out-of-the-box ideas, exquisite luxury, and the unique style you crave. But we've got you covered. Our Exceptional Life Room Series will walk you through how to bring it all to life, step by step and room by room.
When you think "exceptional," you think of luxury, extravagance, and exclusivity blended with comfort and style, right? Well, what says an exceptional life better than an in-home theater!? That's right, first up in our room series is your very own home cinema.
Are you struggling to picture it? Don't worry. Our Exceptional Life Room Series: In-Home Theater Design will show you how it's done!
Once your dream home theater is ready, you can host family and friends for movie screenings, game nights, and all sorts of fun activities! Whether you're hosting your own red carpet premiere event at home or simply kicking back on the weekend with your little ones, a home theater will elevate every experience.
This guide will take you through everything you need to know to create the perfect home theater.
Designing an In-Home Theater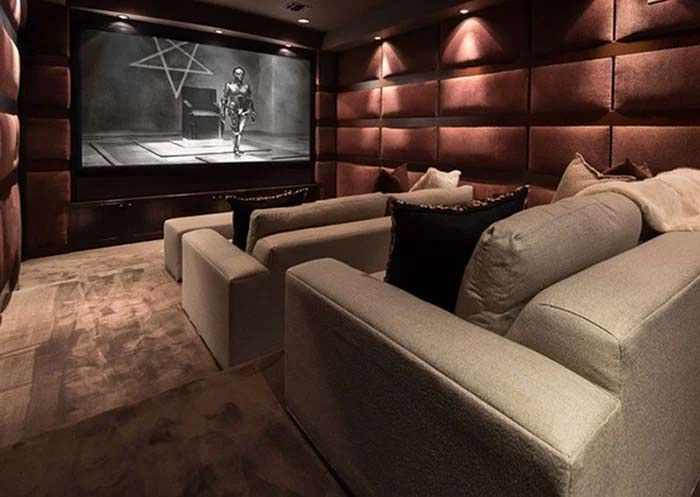 If you've decided to make your home theater dreams a reality, congratulations! You've made the right decision—this is a luxury well-earned.
To help your vision come to life, keep these crucial elements in mind when discussing details with your interior designer.
Location, Location, Location
Home theaters are meant to be a place of escape and relaxation, which means you should find a quiet area in your luxury chateau.
A basement or an outhouse would be the best place to build a home theater. You will surely be far away from any noise, and conversely, you'll spare the rest of the household from your top-of-the-line sound system. You can utilize an obsolete bedroom or convert part of your garage into a fabulous home theater.
Your location largely depends upon your vision and how creative you can be with the space that you already have.
Additionally, choose the right-sized space based on how many people you plan on hosting in your home theater. Comfort is an underrated yet integral element of luxury!
Framework and Insulation
Proper framework and insulation set the foundation for an epic home theater that suits the high life. Soundproofing the interior walls of your home theater is a must since it will prevent any sound from traveling through the walls and disturbing the rest of the house. This way, you can enjoy a cozy movie night at home while the kids are asleep!
The Best Sound System
A proper pre-wired sound system is one of the most crucial features of an excellent home theater. A surround-sound system, which should include a subwoofer, and multiple speakers located at the front, center, back, and corners of the room will provide an immersive experience as good as any traditional cinema. Installing acoustic sound panels and a properly integrated executive control system will give you the impeccably clear audio that each movie night deserves.
High-End Projector
A home theater is, of course, incomplete without a high-end projector. A pre-wired video projector with an HDMI cable and CAT5 control wire is ideal for providing a top-notch, super realistic viewing experience. And, of course, you can easily control video playback and adjust the volume with the help of a remote.
Choose a projector that provides optimal clarity, with a high contrast ratio and high resolution—4K at least!
Proper Lighting
Your home theater's lighting system is crucial to creating the perfect ambiance to enjoy all of your favorite movies. Recessed ceiling lights and wall sconces with dimmers are ideal for luxury home theaters. You can make the room feel as cozy, high-tech, or dramatic as you wish.
You can even jazz things up by installing color-changing LED lights that can be programmed to match your preferred color palette and take your favorite action movie to another level. You can add LED strips or neon lights around the room's perimeter or create fun customized designs.
Seating and Upholstery
If you're looking to create a cozy vibe in your home theater, you can install plush loveseats and sofa beds with decorative pillows and throws. But if you want a more authentic yet lavish movie theater vibe, opt for leather upholstery, Barca loungers, La-Z-boys, or even traditional theater seats, complete with snack and drink holders. You can even construct a slanted platform for rows of seats to replicate the amphitheater-like setup of a real cinema.
If you plan to use your home theater for gaming nights, bean bag chairs are perfect for comfortable floor seating.
Walls and Flooring
Rich, warm shades like burgundy and brown are perfect for home theaters. You can opt for hardwood flooring or even a lush wall-to-wall carpet. Gold accents can create a striking effect and perfectly complement the darker tones.
Additionally, gorgeous tufted wall panels will improve the acoustics and provide a more enjoyable, immersive experience. Acoustics are crucial and the right wall paneling will make a world of difference.
Decorating Your In-Home Theater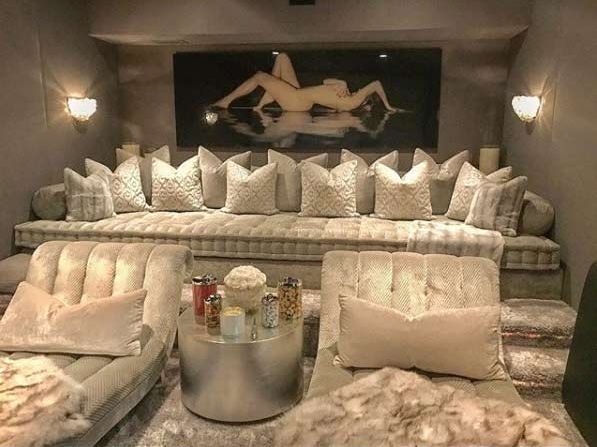 You can personalize your home theater by hanging posters and quotes from your favorite movies or paying homage to some of the most iconic actors. You can put up neon signs or construct a display shelf for your DVDs. Geometric-shaped mirrors on the wall can create an unmatched sense of place. You can stick film-inspired decals on the wall.
Setting up a concession stand at the back of the room is another way to complete your home theater experience. No movie experience is complete without popcorn, so jazz up your snack area with a self-operated popcorn machine. You can also install a simple bar with chips and candy and a mini-fridge filled with your favorite drinks.
Since you're bringing the movie theater to your home, don't hold back on your own comfort. Keep a supply of pillows and blankets handy to keep things as cozy and comfortable as possible.
Don't hold back on extravagance, either. Choose the very best furnishings to go with your top-of-the-line sound system and eye-popping projector. There's no better place to indulge in luxurious aesthetics and accessories.
Constructing a mini-stage or platform at the front of the room is a great way to make your home theater a multi-purpose area that's fun for the entire family. You can invest in a karaoke machine and spend a fun Saturday night singing and playing games with your loved ones. You can go all-out in your entertainment space and get a billiards table, classic arcade games,
Make sure to include enough storage in your home theater for your remote controls and gaming consoles. This way, you can enjoy each evening without worrying too much about clutter, and you can properly store away all of your hobby-related items.
Different Decor Styles and Themes You Can Adopt
Choosing a decor style for your home theater is possibly the most fun bit of creating and designing one. Express yourself and combine your favorite aesthetic with your film buff personality. You can pay homage to your favorite film, actor, or cinematic era; the possibilities are endless; you just have to get your creative juices flowing.
What style you opt for depends on how you wish to use it:
A cozy home theater with a large sectional sofa, plush pillows, and an oversized, custom floor pillow that feels like a mattress could be the perfect spot for movie nights with your loved ones. Cuddle your spouse and let the little ones join!
A large, modern theater could help you bring the classic cinema experience to the comfort of your own home. All you need are some plush chairs, a great sound system, and some fabulous flair. Some luxurious additions like a traditional concession stand or bar would be great for entertaining your friends.
If you enjoy a rustic vibe and tranquil environment while watching your favorite film, you can break the rules and install fake grass in your home theater. It may seem out there, but imagine sprawling out and laying a blanket on a faux garden to enjoy a screening, just like sitting in an outdoor theater!
You can make a wonderful home theater even in your den for solitary movie watching—if you don't care much for too much company. You may have to size things down where the screen is concerned, but imagine having your own utterly private home theater—a wonderful safe haven for you to lose yourself in your favorite films.
When selecting the theme for your home theater, you can pick one aspect or idea and take it all the way or make a fabulous cocktail of different film-related vibes.
You can create a vibe similar to your favorite film with colors and decor pieces that match the era and aesthetic. It'll be like entering into another dimension even before you hit play!
Conclusion
Say goodbye to dealing with ticket and concession stand lines – you can enjoy royal treatment by bringing the cinema home. You don't have to wait for your favorite film to hit the screen; all you have to do is grab the bubbly and the popcorn, then hit 'play'!
In-home theaters are a great way to bring the experience of going to the movies to the comfort of your home; a magical way of making living your most fabulous life a reality. Whether you're looking to elevate your family movie night experience, host a screening with your girls, or simply want a dedicated room to kick back and relax, home theaters provide the perfect escape within your home!
Love this blog post? Stay tuned for our next Exceptional Life Room coming soon. Comment below and tell us what rooms you'd like us to feature next!